These biscuits are an idea for my  friend's party, a really tasty appetizer !
Ingredients
160 gr  of weak flour
20 gr  of oats flour
20 gr of barley flour
20 gr of spelt flour
40 gr  of toasted hazelnuts
50 gr of parmesan
30 gr of sesame seeds
30 gr of flax seeds
70 gr of extra virgin olive oil
2 eggs
4 gr of yeast
4 tbp of water
a pich of salt
a sprig of Rosemary
Instructions
Chop the hazelnuts  and after the rosemary (I recommend cutting the rosemary with the knife), put the flour in a bowl with hazelnuts and rosemary chopped, add the parmesan, salt and yeast. Mix and add the oil, after add the two eggs.
Knead briefly, create a ball, wrap it into the film and put  in the fridge for at least 1 hour.
Take the dough from the fridge and roll the dough until you have the 3/4 mm thickness, now you can give it the shape you like. Good fun !
Cook the biscuits in the preheated static oven at 180°C for 15 minutes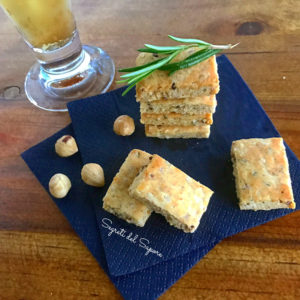 Seguici e metti il tuo like: